Portable mesh nebulizer machine with rechargeable battery is a new type of atomizer. It has both characteristics of compressor atomizer and ultrasonic nebulizer. The spray method uses ultrasonic vibration to make the drug solution was broken into mist particles and through the mesh spray head sprays. When inhaled, deeply reach alveolus and bronchus, make liquid medicine deposit in the bottom of the respiratory tract, achieve the purpose of health care and treatment.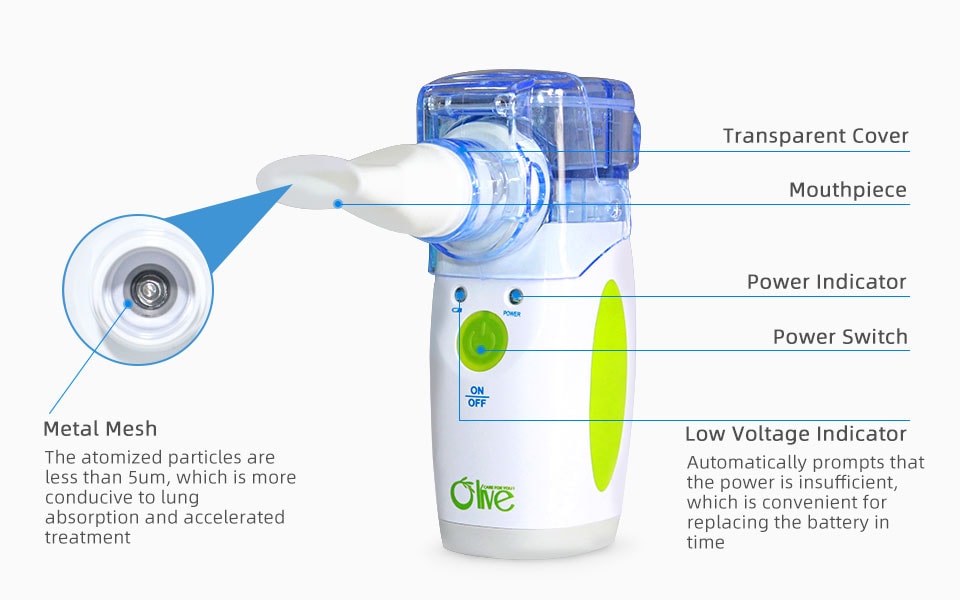 Product Specification

Auto Shutdown Without Medicine Water
1. Scientific Structure, With A New Seal Structure, Multi-Angle Inhalation
2. Very Quiet Operation. Suitable For Home, Clinic OrOutdoor Use And Inhalation At Night.
3 . A New And Unique Mesh Spray Structure. Ultrafine Particles Of About 3μm,
4 . Atomization Of Super Efficient Solution, Drug Residue Amount Is Only 0.3ml.
5 . Lightweight And Compact, Easy To Take Along Anywhere. Anytime, CanEasy Inhalation Therapy.
This product comes with 1 adult mask, 1 child mask, 1 mouthpiece, a power cord, and a drawstring bag.
Currently supports global shipping, and automatically matches the shipping cost. If there is no shipping cost in your country, please contact us to set up
* IMPORTANT: This is not a diffuser, humidifier or vaper. It does not produce a heated mist. It does not produce steam. The purpose of a nebulizer is to produce small particles and get a medicine deep into the lungs.