What is Snoring?
Due to muscle relaxation during sleep, the upper airway collapses, and when the air flows through the narrow channel, the surrounding tissues tremble and a snoring sound appears.
How Harmful is Snoring?
Mild snorers will suffer from hypoxemia, obesity, decreased memory, and dizziness due to decreased sleep quality. Symptoms such as low immunity: People with chronic snoring or severe snoring are often accompanied by sleep apnea syndrome. Repeated nocturnal hypoxia and hypercapnia caused by apnea can cause hypertension, coronary heart disease, and diabetes And cerebrovascular diseases, and even sudden death at night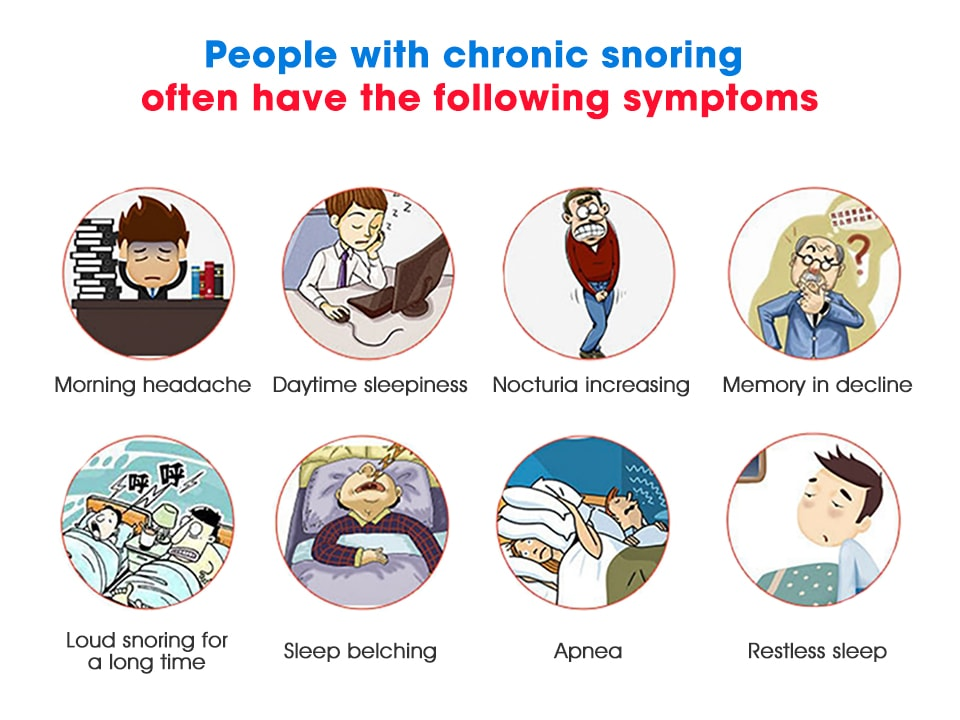 Why Use An Auto Cpap Machine To Treat Sleep Apnea?
Auto CPAP machines or Continuous positive air pressure machines, are widely used to treat sleep apnea, a medical condition that causes temporary loss of breath during the night. CPAP machines are electronic devices that draw in outside air using an internal fan, humidify the air and pressurize it, and then deliver it to users via a connective hose and breathing face mask.CPAP pressurizes air to one constant level, depending on the user's prescription to ensure you receive the optimum pressure levels for successful sleep therapy
Why is OUR CPAP MACHINE BETTER?

💖 Two work mode:CPAP and APAP
💖 Swiss made pressure sensor
💖 Germany technology blower
💖 Pressure titration function
💖 Special filter:prevent from dusty and blocking

Product Specification
| | |
| --- | --- |
| Screen | 3.5 Inch color TFT |
| User Interface | One key operation |
| Pressure | 4-20cmH2O,auto adjusting |
| Accuracy | ±0.5cmH20 |
| Belex | 2-4cmH2O, 3 levels adjustable, makes the expiration more comfortable |
| Ramp | 0-60mins |
| Auto switch off | Yes |
| Noise | <30dB(10cmH2O) |
| Leakage compensation | Yes |
| Altitude compensation | Yes |
| Humidifier | 0-5 level,water chamber separable |
| SPO2 | Optional |
| Parameter monitor | Flow/Press/LK/BPM/SpO2(Optional)/PR(Optional) |
| Realtime Alarm | Power failure/Low voltage/Airway Block/High Leakage/humidifier failure/TF card full |
| Data download | FT card |
| Data report | available |
| Self-diagnostic questionnaire | Yes, makes patient understand the potential breathing apnea by himself. |
| Net Weight | 2.2kg, 280*200*112mm(Host+humidifier) |
| | | | |
| --- | --- | --- | --- |
| Host | 1Set | Power Adapter | 1Piece |
| Humidifier | 1Piece | Nasal Mask with Headgear | 1Piece |
| Hepa Filter | 2Piece | Tube | 1piece |
| Travel Bag | 1Piece | User Manual | 1Piece |