The RESOXY Nebulizer is a lightweight nebulizer ideal for those who need to maintain normal lung function. Its small size makes it highly portable for use away from home. RESOXY's Compressor Nebulizer delivers a fine mist of medicine while operating quietly and efficiently. People with breathing difficulties, such as asthma, chronic obstructive pulmonary disease (COPD) or cystic fibrosis, receive prescriptions from their doctors for medications to minimize or control the symptoms of their disease. These medications are usually in liquid form and require nebulization to deliver them to the lungs. Nebulization systems can be used daily or periodically as symptoms arise. Symptoms usually increase during periods of high pollen, hay fever or allergic manifestations. Many patients with severe airflow obstruction will derive subjective and objective benefits from home nebulization.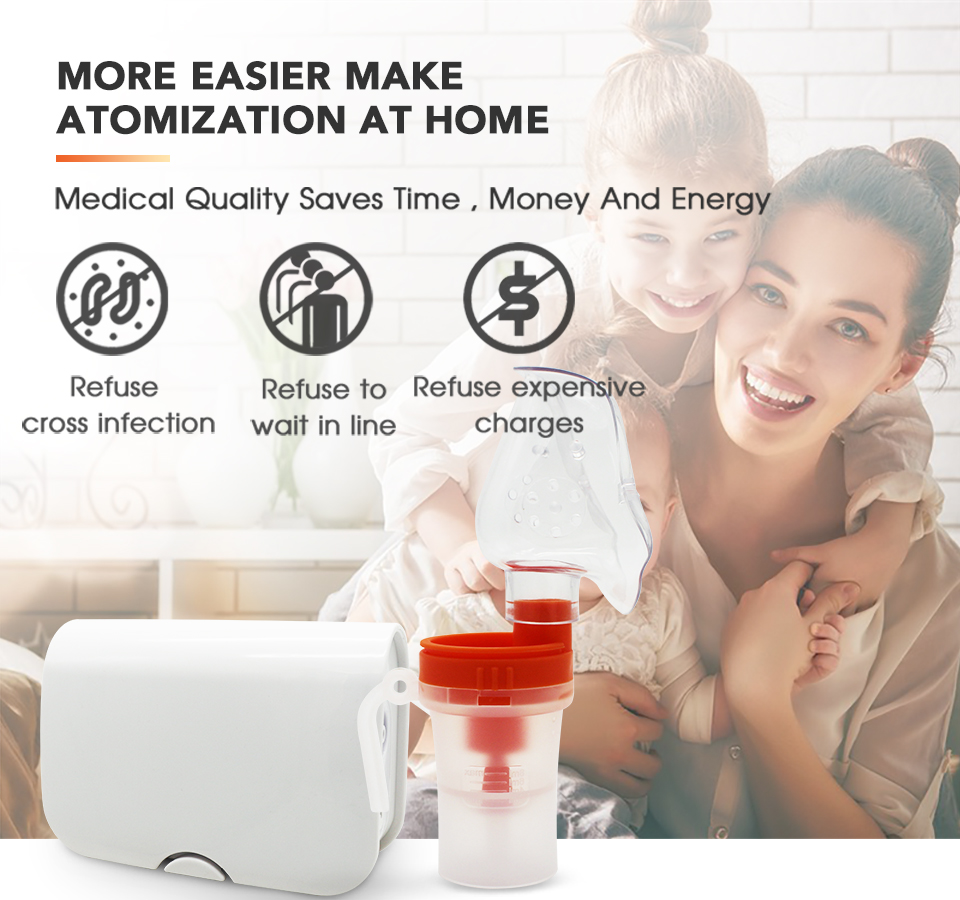 Get relief without breaking your wallet with this compact, user friendly device and bring back a sense of assurance into your life. Walk around without any worries as the OLV-NO1 Portable Nebulizer Inhaler helps those with breathing issues and congestion caused by asthma, colds, bronchitis, the flu, or other viruses as well as other respiratory ailments that can cause considerable distress.
Product Specification

Environmentally ABS material
Why is Our Nebulizer BETTER?
💊[High Medicine Nebulizing Rate]- Nebulizer machine use Self-Regulation-Technology to control Particle size(MMAD) in 2.26-4.16, In this range, the active ingredient you use will be easily absorbed by our body, and the effective rate of ingredient is about 70%.

💊[3-year Warranty, Worry-Free Shopping Experience]-As a professional brand of nebulizer, we provide 3-year warranty of the whole machine and two replacement opportunities of accessories (Non-human damage). If there are any problems during the use of the product, you can contact us at any time, and we promise to reply no more than 24 hours.

💊[Suitable and Adjustable Nebulization Rate]- 0.3 ml/min: After a large number of experiments and data investigation, adults and children's breathing frequency is different, our products choose the most appropriate range of nebulization rate, reduce waste of active ingredient, improve the cure effect.

💊[Non-Toxic and Environmental-Friendly]- The machine shell and mask are produced in GMP aseptic environment. The material is soft, non-toxic and tasteless, and does not cause any damage to the human body. The elderly and children can use it at ease.

💊[Suitable for Various ingredient]- Suitable for most common ingredient and other atomization diameter of 1-8 μ M. Normal saline can also be used.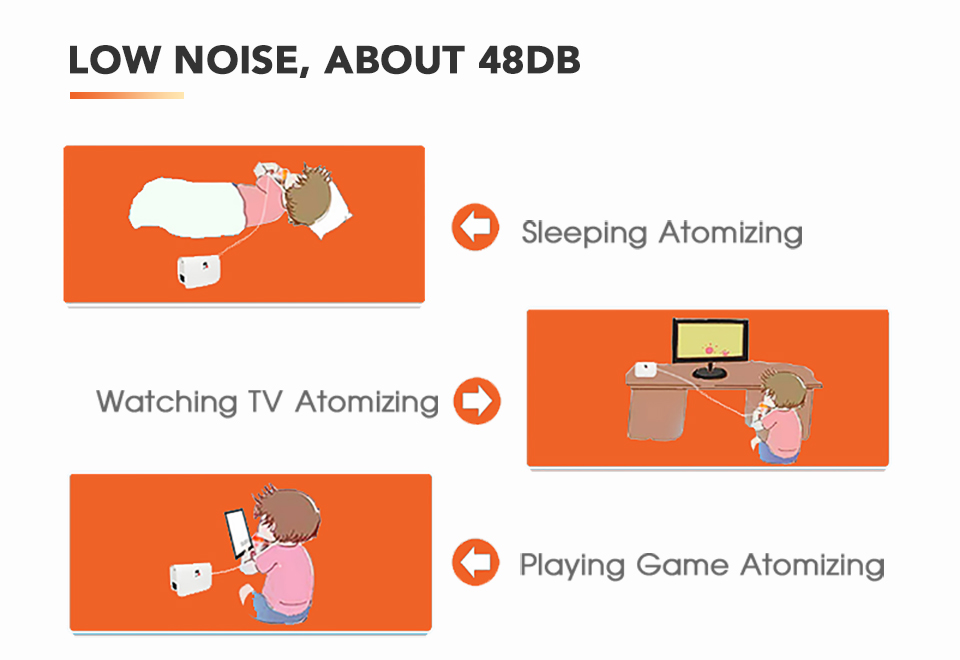 Portable Mesh Nebulizer machine Accessories:
| | | | |
| --- | --- | --- | --- |
| Machine | 1 piece | Mouth Piece | 1 piece |
| Child Mask | 1 piece | Power Adaptor | 1 piece |
| Adult Mask | 1 piece | Air Tube(2M) | 1 piece |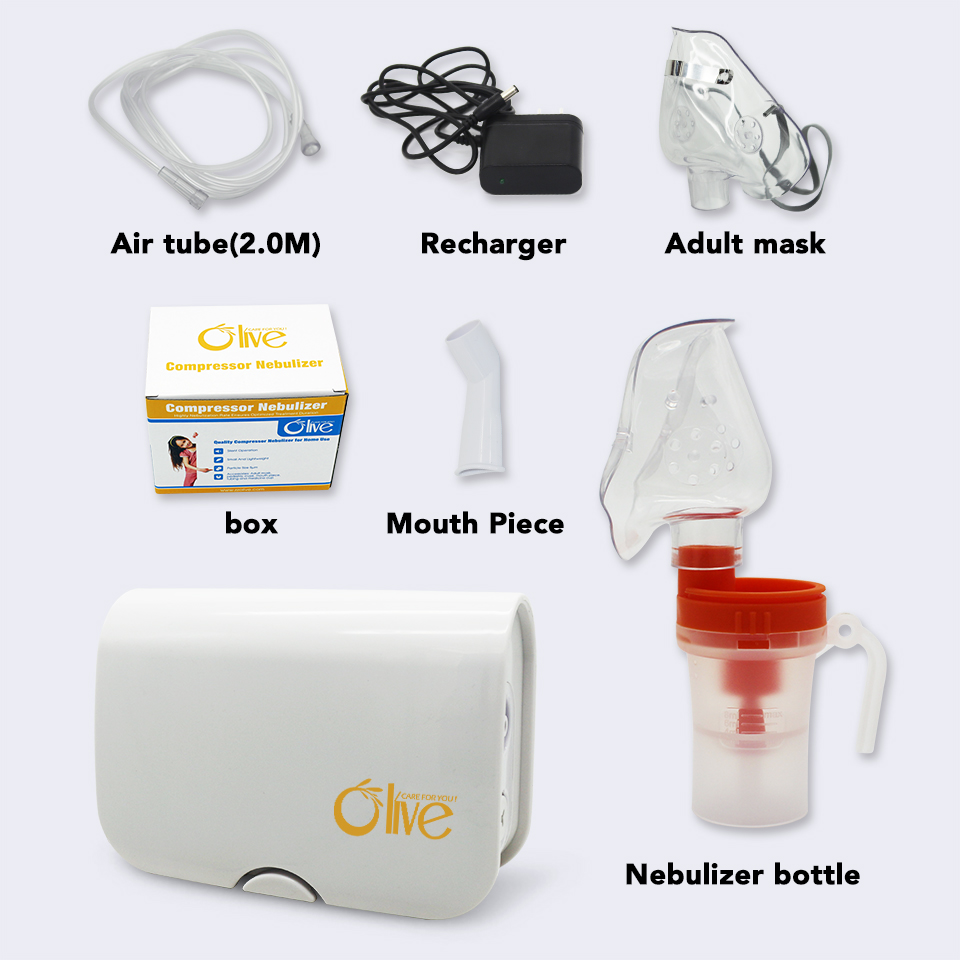 Currently supports global shipping, and automatically matches the shipping cost. If there is no shipping cost in your country, please contact us to set up

Suitable for All Ages
According to the different mouth shape and vital capacity of adults and children ,it is equipped with a child mask + adult mask + mouthpiece which can be used by the whole family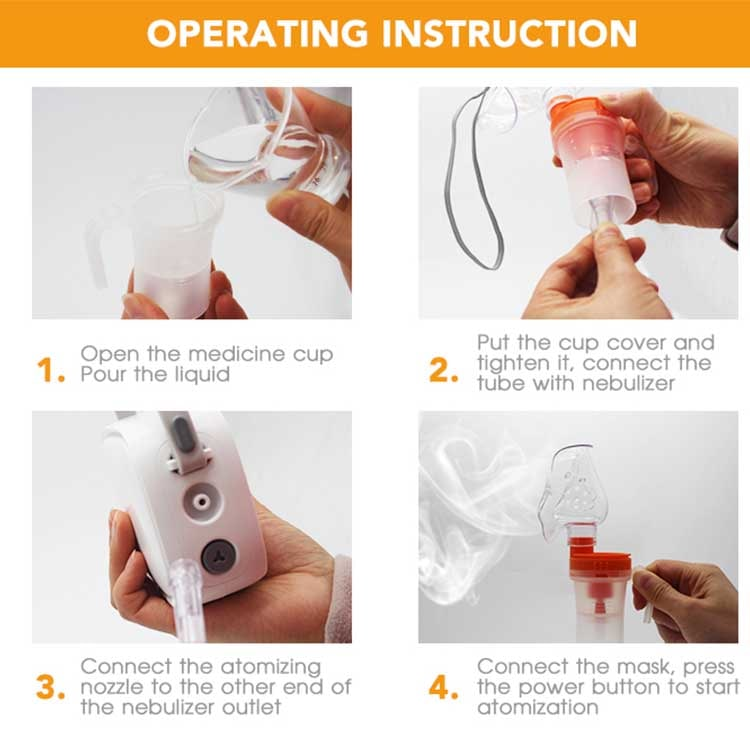 Operating Instruction:
STEP1: Open the medicine cup, Pour the liquid
STEP2:Put the cup cover and tighten it, connect the tube with nebulizer
STEP3:Connect the atomizing nozzle to the other end of the nebulizer outlet
STEP4:Connect the Mouthpiece, press the power button to start atomization
* IMPORTANT: This is not a diffuser, humidifier or vaper. It does not produce a heated mist. It does not produce steam. The purpose of a nebulizer is to produce small particles and get a medicine deep into the lungs.