Say goodbye to breathing problems! Get the on-the-go cutting RESOXY Portable Nebulizer Inhaler. No longer will you have to carry bulky devices for your breathing treatment. The RESOXY Portable Nebulizer Inhaler is a mesh type nebulizer for treating the upper and lower respiratory tract. It works great for those with asthma or breathing difficulties. The nebulization and inhalation of medication prescribed by a physician can prevent diseases of the respiratory tract, treat the side effects of these disorders and accelerate healing.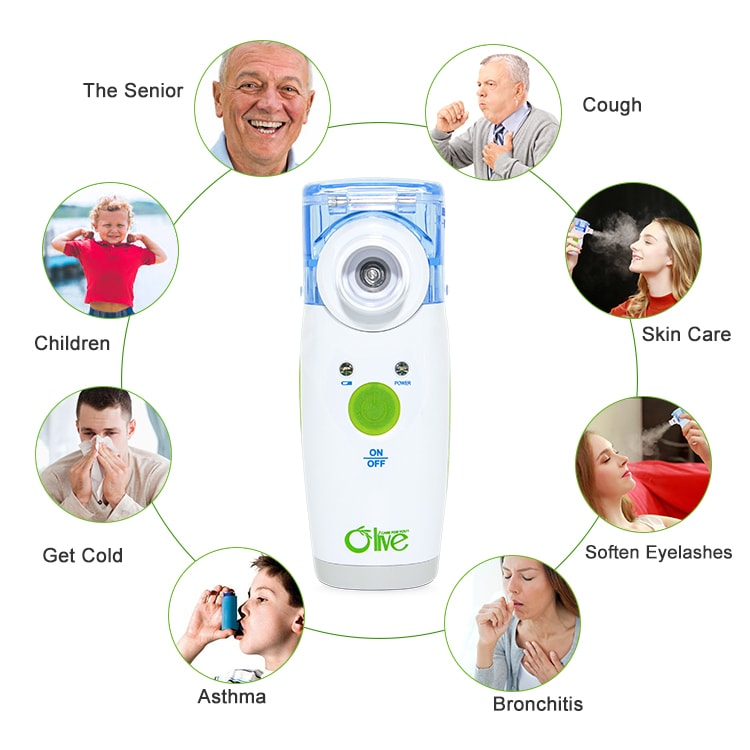 Get relief without breaking your wallet with this compact, user friendly device and bring back a sense of assurance into your life. Walk around without any worries as the OLV-NO1 Portable Nebulizer Inhaler helps those with breathing issues and congestion caused by asthma, colds, bronchitis, the flu, or other viruses as well as other respiratory ailments that can cause considerable distress.
Product Specification

2*AA batteries( Not include)

Auto Shutdown Without Medicine Water
Why is Our Nebulizer BETTER?
√ Scientific Structure, With A New Seal Structure, Multi-Angle Inhalation
√ Very Quiet Operation. Suitable For Home, Clinic OrOutdoor Use And Inhalation At Night.
√ A New And Unique Mesh Spray Structure. Ultrafine Particles Of About 3μm,
√ Atomization Of Super Efficient Solution, Drug Residue Amount Is Only 0.3ml.
√ Lightweight And Compact, Easy To Take Along Anywhere. Anytime, CanEasy Inhalation Therapy

.
Portable Mesh Nebulizer machine Accessories:
| | | | |
| --- | --- | --- | --- |
| Machine | 1 piece | Mouth Piece | 1 piece |
| Child mask | 1 piece | Power Adaptor | 1 piece |
| Adult mask | 1 piece | | 1 piece |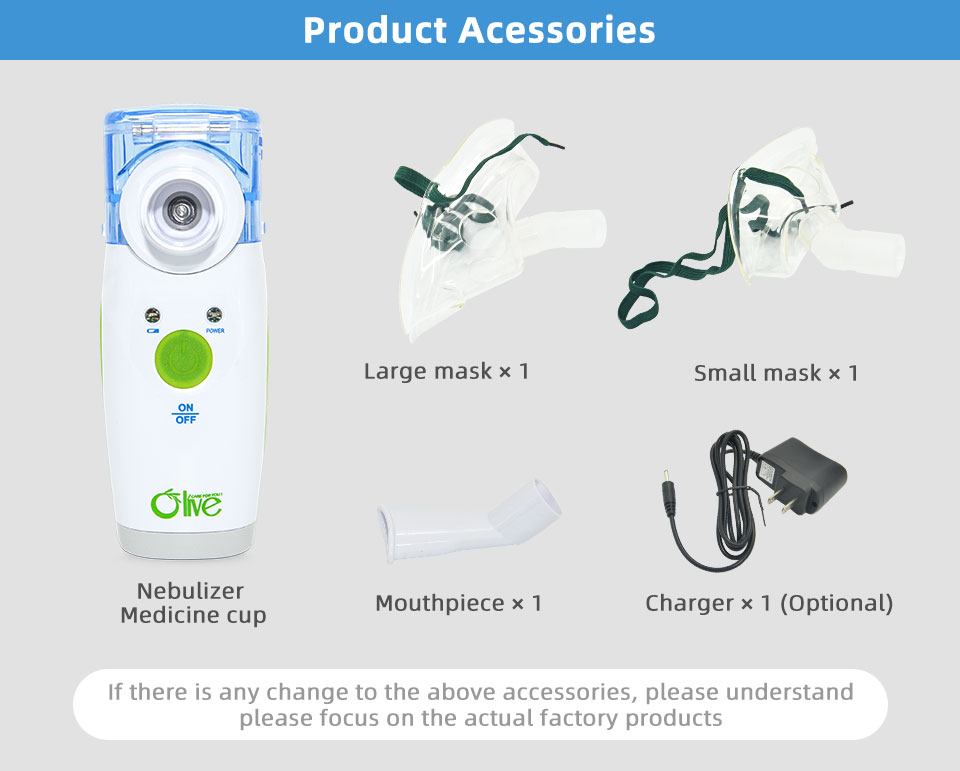 Currently supports global shipping, and automatically matches the shipping cost. If there is no shipping cost in your country, please contact us to set up

Suitable for All Ages
According to the different mouth shape and vital capacity of adults and children ,it is equipped with a child mask + adult mask + mouthpiece which can be used by the whole family
* IMPORTANT: This is not a diffuser, humidifier or vaper. It does not produce a heated mist. It does not produce steam. The purpose of a nebulizer is to produce small particles and get a medicine deep into the lungs.