OLV-DS8 Auto Bipap Machine With APCV
What is BiPAP Machine?
BiPAP is short for Bilevel Positive Airway Pressure. It is specifically designed to treat patients with lung and respiratory diseases. These lung diseases cause dyspnea, which can be relieved by the BiPAP machine. Previously, this special machine was only installed in hospitals. Patients must go to the hospital to be treated with BiPAP. However, an advanced version of the machine is available now and can also be used at home. The BiPAP machine is known to improve the quality of life of patients with lung diseases.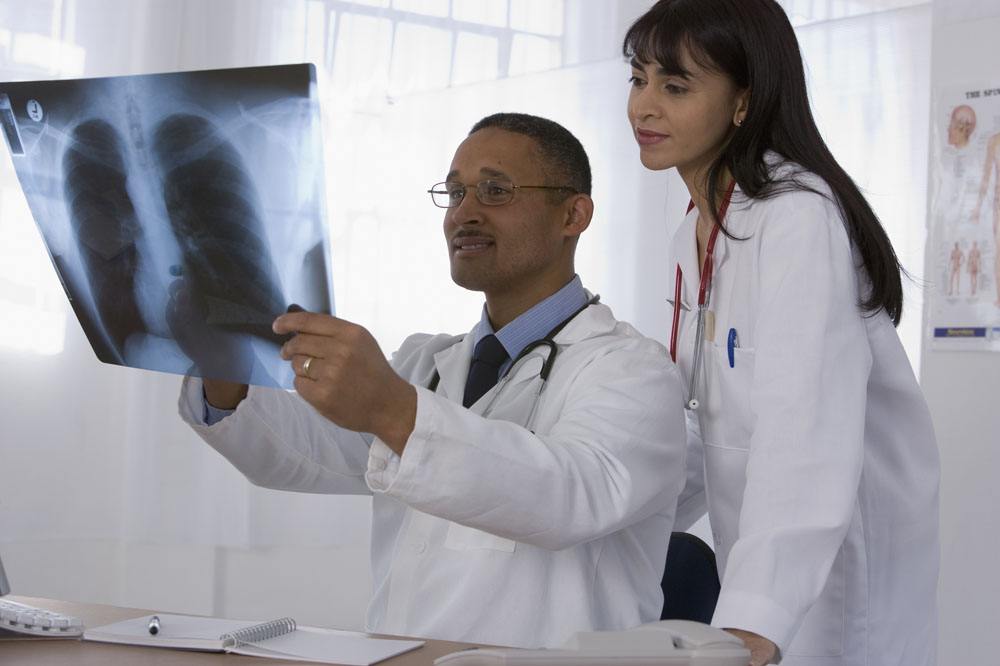 SIGNS OF LUNG PROBLEMS?
Pulmonary diseases are respiratory diseases, which are the most common health problems in modern urban populations. Shortness of breath or dyspnea are the hallmark symptoms of COPD. Chronic cough is an initial symptom. At first, the cough is intermittent and severe in the morning. Severe patients are also accompanied by wheezing and chest tightness. Carbon dioxide retention is common in type 2 respiratory failure caused by chronic obstructive pulmonary disease, common clinical symptoms of irritability, hallucinations, etc., and manifestation of drowsiness after severe symptoms. These things are caused by carbon dioxide anesthesia: long-term lung problems can directly lead to hypertension, coronary Cardiovascular and cerebrovascular diseases, such as heart disease, seriously endanger life and health!
BiPAP Machine for Lung Diseases
Indications: Hypoxemia / sleepiness, sleepiness / central apnea, CSA (Central sleep apnea), MSA (mixed sleep apnea), Patients with lung diseases (chronic obstructive pulmonary disease, chronic Obstructive pulmonary disease). Moderate to mild respiratory failure, pulmonary function, respiratory insufficiency, severe sleep respiratory syndrome. The APCV mode is particularly suitable for critically ill patients with shallow breathing (fast breathing rate) and low tidal volume.
TIPS
Warm reminder: once the chronic disease is not treated in time, it will cause life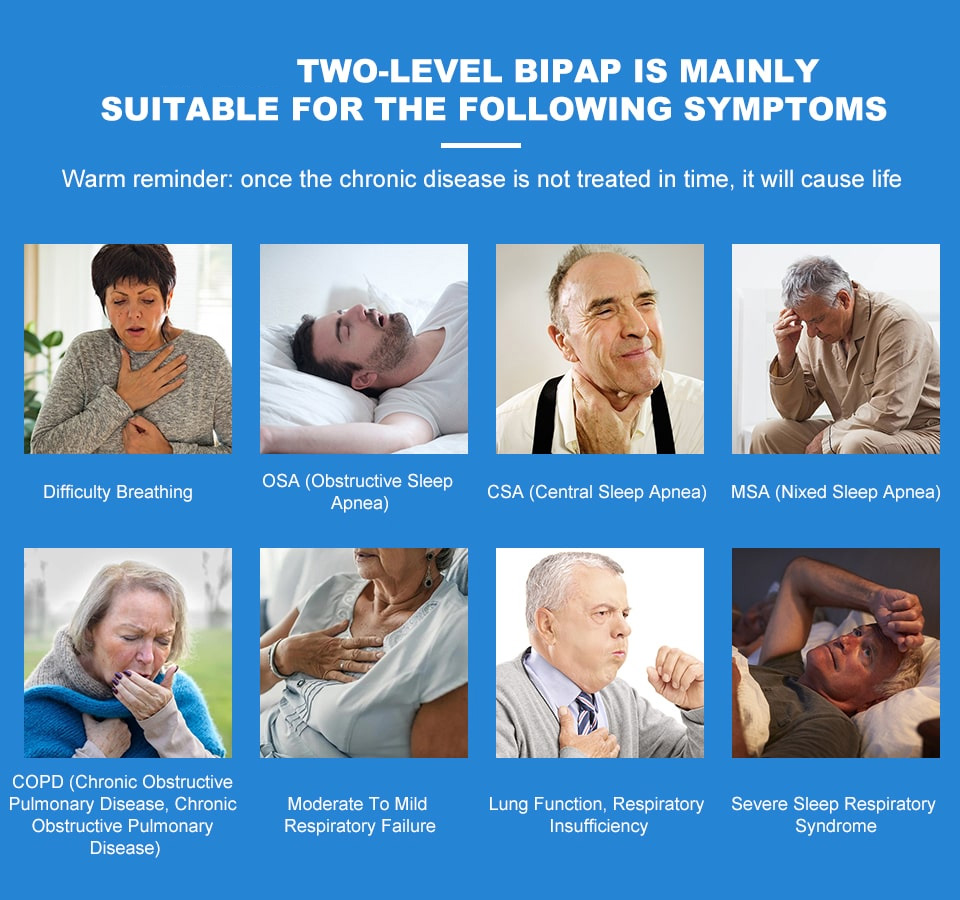 WHY IS BIPAP MORE COMFORTABLE ?
The bi level BiPAP is a more comprehensive dual airway pressure ventilator, which can be set with a higher inspiratory pressure and a lower expiratory pressure, respectively. The machine provides a higher inspiratory pressure when the patient is inhaling To keep the airway open, provide low exhalation pressure when exhaling to ensure that the patient's breathing is smooth
Why is OUR BIPAP MACHINE BETTER?
💖 Work mode :CPAP, Auto, S, T, ST, APCV
💖Function level: two-level automatic
💖 Real-Time display treatment data
💖 Alarm for power off or mask off
💖 TUV CE and ISO certificated
💖 One Year Data Storage, USB Data Export
💖 Combined smart technologies
💖Heating And Humidification Adjustable 5 Levels
Product Specification
CPAP, Auto, S, T, ST, APCV

IPAP
4-25CM H2O/4-30CM H2O
SD Card
Power

Input 100-240V, 50-60Hz, 1-2A; Output + 24V, 2.5A

DC Voltage

Over-Temperature Protection

Stop automatically, alarm with 4 times

Lock Function

Yes

Screen Auto Sleep

Auto sleep in 15 minutes, press any button to highlight screen

Backup Rate

5-50/min, adjustable

I/E

10-80%

Inspirate Triggle/Expirate Level/Inspirate Sensitivity

1-5 level

Leak Compensation

EPR

Automatic Altitude Adjustable

Awake Detection

Breath Event Detection

Yes

Water Capacity

220ML max

Humidifier Level

Integrated Heated, 0-5 level

Alarm

Power off, mask off

Dimensions(cm)

28L x 14W x 9.5H(machine); 38.5L x 36.5W x 16H(1pc carton)

Weight(with humidifier)

1.6Kg(net weight); 3.9Kg(gross weight)

Accessories

Integrated heated humidifier, Water tank, Power lead, Travel bag,

User manual, Air filter, SD card, Full face mask, Air tubing, Software

Sound

<28 dB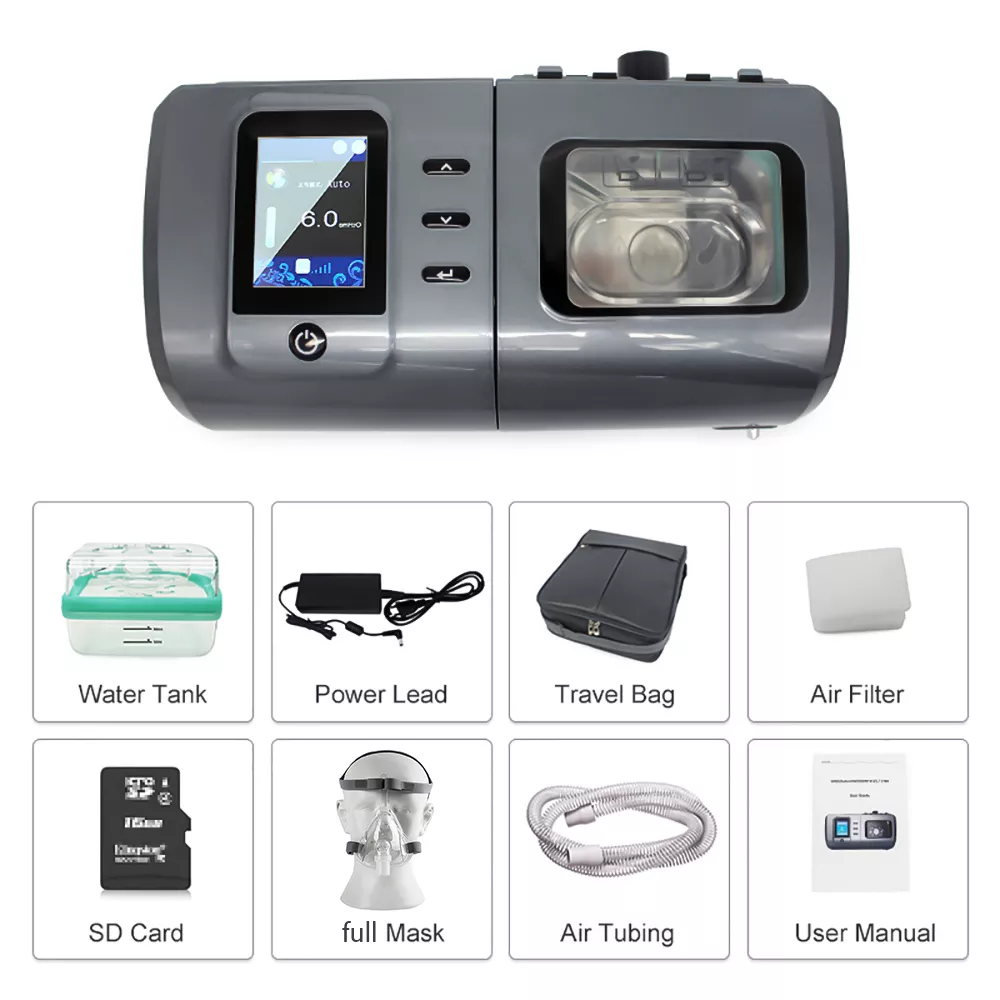 Package List:
| | | | |
| --- | --- | --- | --- |
| Host & Humidifier | 1Set | SD | 1Piece |
| Full Mask with headgear | 1Set | Travel Bag | 1Piece |
| Air Tube | 1Piece | Power Adaptor | 1piece |
| Hepa filter | 2Pieces | User manual | 1Piece |
We fully support dropshipping, and we are very welcome to wholesale customers, the price and service will make you satisfied, please contact us if necessary! ! !
FAQ
1.What's the mask do you provide?
We can provide two kinds mask: nasal mask or full mask , usually the autocpap comes with nasal mask, bipap comes with full mask. If you want to change it, you can ask for our salesman to do it.
2.How long the warranty?
The unit provide 2 years warranty. If something is wrong with the machine, pls contact our saleman. We will provide the free parts to you
3.What's the accessories?
Include : integrated heated humidifier, water tank, power cord, travel bag, user manual, air filter, SD Card, nasal mask(full mask), air tubing
4. How to clean the mask?
You can clean the mask for the hot water, then dry in the air(avoid sunlight)
5.Does the cpap can connect with oxygen concentrator?
Yes, the cpap machine can connect with the oxygen concentator. There is a T type connector on the cpap machine, which can coonect with the oxygen concentrator.