If you're having trouble breathing, you don't need a heavy oxygen tank to carry around. This small, lightweight tank is easy to transport. It comes with an included car charger so you can recharge on the go.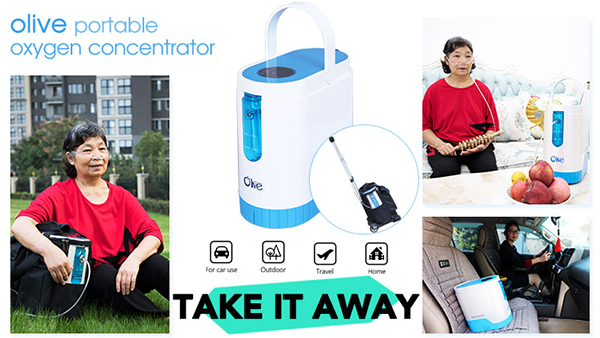 The Portable Oxygen Concentrator can be Applied to 3 Power Supplies:
1. Use at the car by car inverter
2. Use outdoor by battery
3. Use at home, plug into power directly.
Why is OUR Oxygen Concentrator BETTER?
✔ No Prescription Needed / Free Of Big Bulky Oxygen Tanks
✔ Oxygen Output Concentration Levels: 30%-90%
✔ Continuous Flow Range: 1-7L/min (Adjustable)
✔ Low Noise ,Less Than 40db(A)
✔ Negative Ion: 10 Million Units
✔Package Size:245*181*365 (mm) Net Weight:5kg
✔Low power consumption and low oxygen production cost
✔Operates With Rechargeable External Battery,AC or DC Power\
✔Fashionable carrying case with adjustable shoulder strap
✔Exceptional battery life,can be used for 800 times
Product Specifications
| | |
| --- | --- |
| Model | OLV-C1 |
| Flow Rate | 1-5L/min |
| Purity | |
| Sound Level | |
| Power | |
| Output Pressure | 0.05-0.07MPA |
| Net Weight | 5.4KG |
| Dimension | 310*165*310mm |
The negative ion option produces negative ions, providing positive health benefits not supported by other oxygen units. High-tech functions can be provided at no additional cost. Enjoy the aerobic health brought by negative ions
How To Charge The Battery ?

Connect the charger with the battery as figure:

Tips:The battery can last 60mins when it is fully charged. It takes about5-6 hours to charge battery fully,and the light on the charger turns green

It has three power sources:
>. Use at home, plug into power
>. Use at car by car inverter
>. Use at outdoor by battery, carrying bag and portable trolley
Tips: The battery can last 60 mins when it is fully charged. It takes about 5-6 hours to charge the battery fully, and the light on the charger turns green.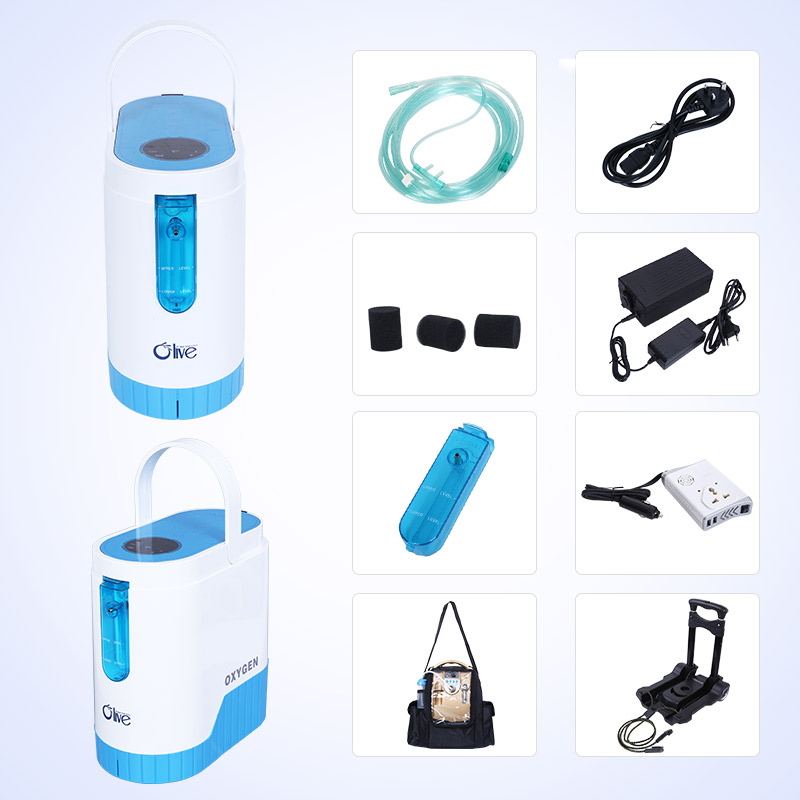 COMPLETE PACKAGE
1× Oxygen Concentrator
1× User manual
1× Nasal cannula
1× Trolley
1× Battery
1× Bag
1× Car Inverter
1× Humidifier bottle
1× Battery Charge
1× Filter