√ CONVENIENT DESIGN & QUALITY CONSTRUCTION
A recessed flow meter and metal cannula connector mean RESXOYGEN is less prone to accidental breakage; while a convenient internal storage cabinet lets you store away extra tubing. RESXOYGEN easy-to-use Removable humidifier bottle he is compatible with all standard bubble humidifiers. And it provides a trouble free connection for the humidifier and oxygen tubing at the top of the unit where it's most convenient.
√ AT HOME IN THE HOME
Using oxygen therapy has traditionally been restrictive, requiring frequent bottle changes or heavy, noisy concentrators; but with the RESOXY you can finally be free of power hungry concentrators or inconvenient bottles. One of the biggest factors that separate the RESOXY from its competition is size. At just 26 pounds EverFlo is small, light and inconspicuous so it fits easily into the home without disturbing daily life, and it's easy to transport wherever it's needed.
You can use oxygen concentrator in many occasions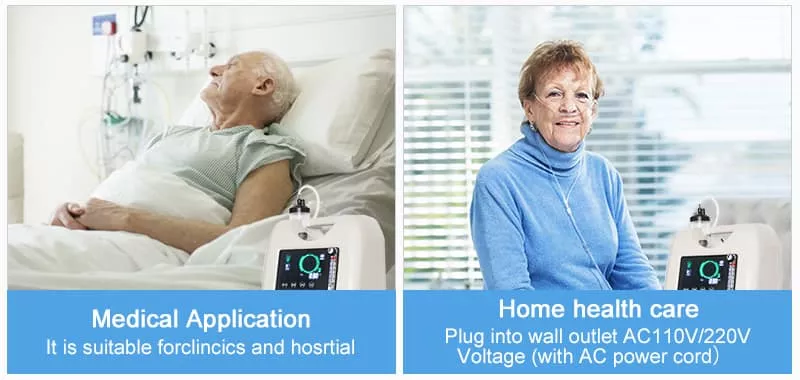 Product Feature
1.Produce Oxygen+Atomizing,one Machine With 2 Functions(nebulizer function optional)
Remarks: It is not possible to switch to the atomization mode during the oxygen production process
2.Guaranteed Oxygen Technology
Multi-sate Automatic Optimization of oxygen production technology is Guaranteed make use more assured
3.Prefessionally Provide Oxygen
93% hight oxygen concentration stable oxygen output and prevent infection
4.Even if two people are using the machine at the same time,the hight oxygen concentration still continues
Package List
| | | | |
| --- | --- | --- | --- |
| Machine | 1Set | Power cord | 1Piece |
| Power cord | 1Piece | Nasal cannula | 2Piece |
| Humidifier bottle | 1Piece | Air filter | 1piece |
| Hepa filter | 1Piece | User manual | 1Piece |