💕 Mute setting: mute without interference, energy saving and low power consumption.
💕 Lightweight and portable: small and exquisite, easy to carry, making the appearance even better.
💕Effective sterilization: innovative air duct design, more efficient sterilization.
💕One-key start and stop, no need to set.
💕Maintenance-free, no consumables. Long battery life. 6. Rechargeable lithium ion battery. Includes charger.
Technical Specifications
Lithium-ion battery capacity: 2000mah
Power: 4w
Storage temperature: -20ºC~55ºC
Operating temperature: -5ºC~45ºC
IPX1 IP (ingress protection): IPX1
Weight: 205g
Size: 117*68*50(mm)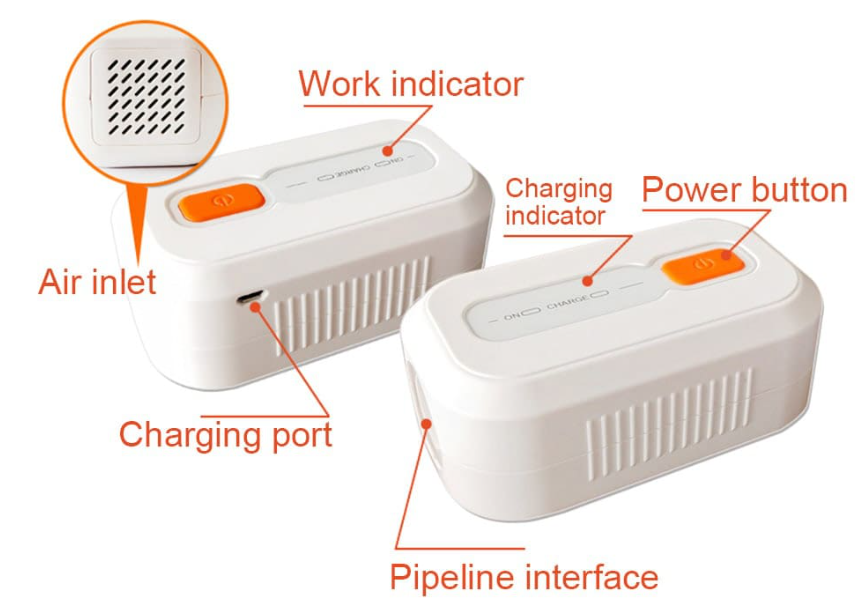 How to clean the machine and tube?
Just insert your CPAP/APAP/BIPAP, nasal mask, full face mask and other equipment tubes into our cleaning machine, open CPAP/BIPAP Disinfector for cleaning, and walk away. The CPAP/BIPAP Disinfector kit will use ozone (also called active oxygen) to automatically clean your equipment in just 30 minutes.
There are two ways to clean the mask. One way,you can use the tube, one side connect the mask, one side connect the CPAP/BIPAP Disinfector, then open the CPAP/BIPAP Disinfector to clean. Another way is to put the CPAP/BIPAP Disinfector and mask into a box, then open the CPAP/BIPAP Disinfector to clean.