OLV-600H

Hydrogen Generator Inhalation
About oxyhydrogen machine

Hydrogen gas is said to be a new and promising treatment option for variety of diseases. Its applications range from acute illness such as ischaemia–reperfusion injury, shock and damage healing to chronic illness such as metabolic syndrome, rheumatoid arthritis, and neurodegenerative diseases.There is a growing evidence obtained by animal model experiments on molecular hydrogen (H2) as antioxidant, anti-inflammatory, antiapoptotic and antiallergic.

It is intended for general public's health care that the user may choose Hydrogen or Oxygen to use through a nasal cannula. Hydrogen can provide the function of suppressing the inflammation and reduce the free radicals in the body. Also, Hydrogen is the Lightest air that can improve the flowing rate in the Lung to improve the Oxygen being absorbed. If the user's Oxygen absorbing function is not good of his/her Lung, then to provide both Hydrogen and Oxygen is very important to the user to help them to get Oxygen into their bodies.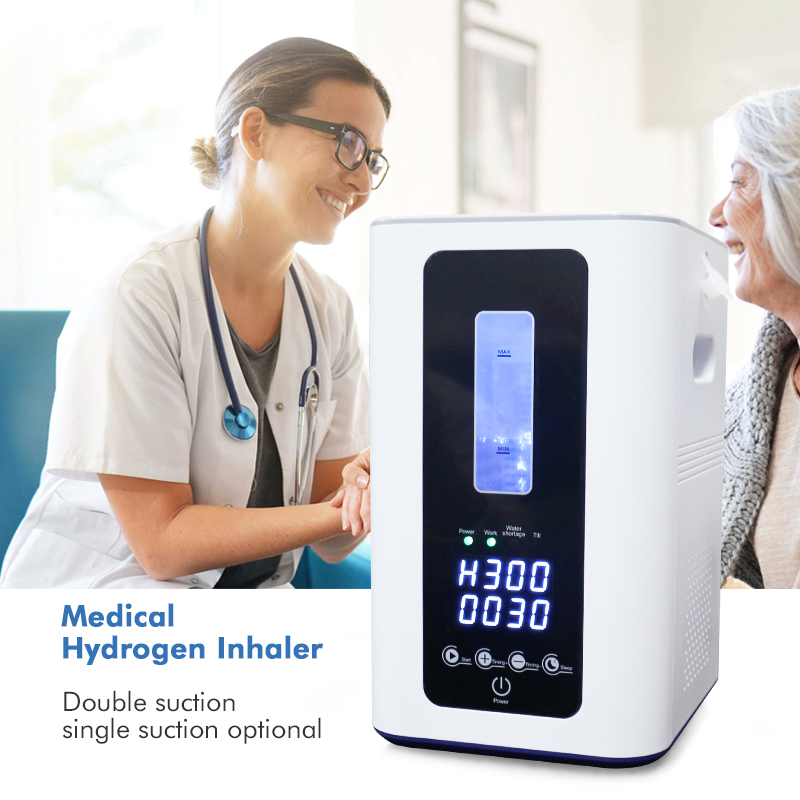 Product Specification
| | |
| --- | --- |
| | |
| | |
| | |
| | |
| | |
| | AC110V,60Hz or AC220V 50Hz |
| | |
| | |
| | |
| | |
| Water quality requirements | Double distilled water or pure drinking water |
| | |
One machine with multiple functions
It's not just hydrogen production
1. Hydrogen water face wash
The claimed benefits were demonstrated through various delivery methods including drinking hydrogen rich water, intra-peritoneal injection, infusion of hydrogen-rich saline and inhalation.However, inhalation of hydrogen gas has been established as the easiest and simplest route of administration. It also allows monitoring of the dose of hydrogen. As a biological gas, hydrogen has the ability to diffuse freely across biological membranes, acting in various functional capacities.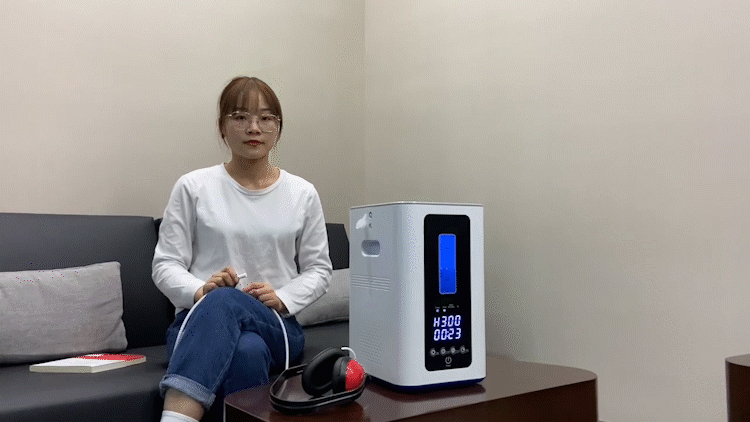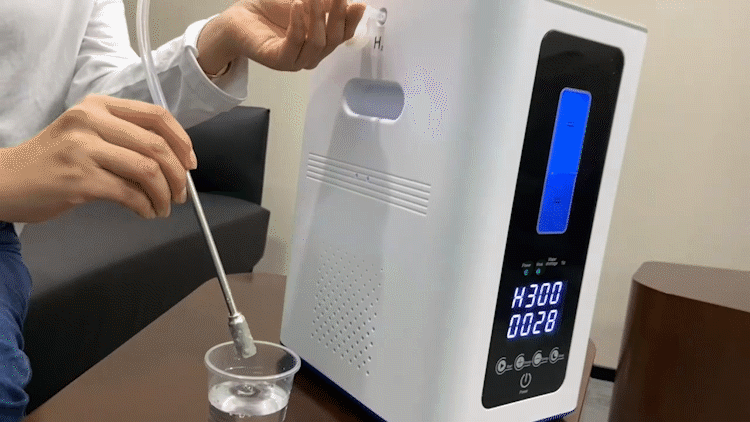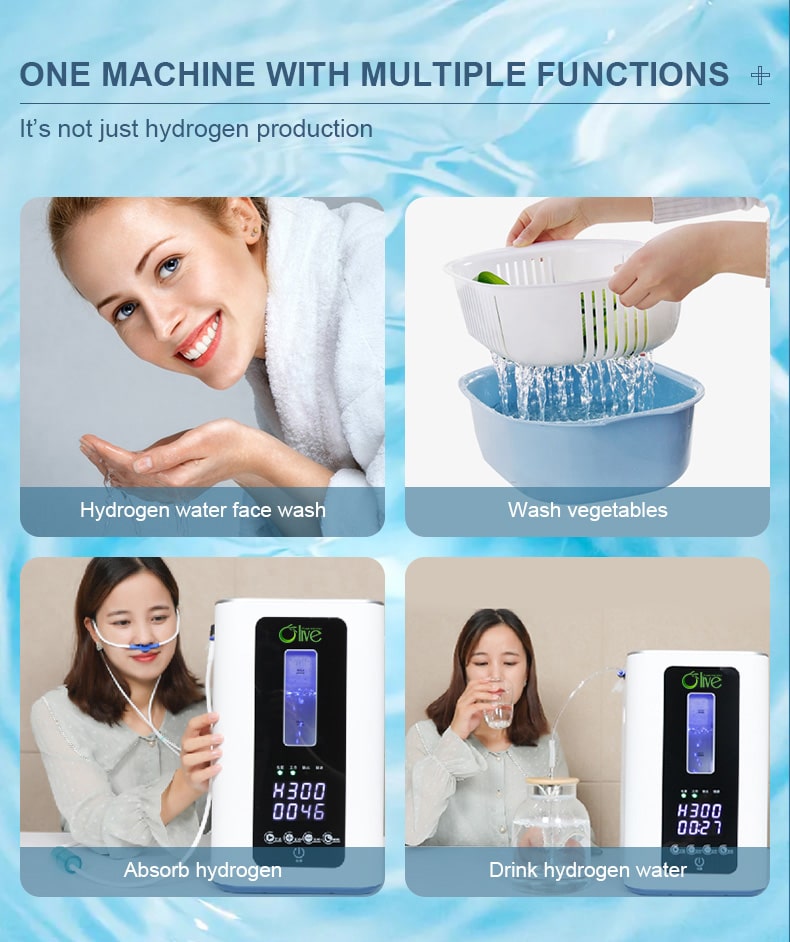 What effect does hydrogen have on the body?
Hydrogen molecules are very small and can quickly penetrate and diffuse throughout the body, taking away the malignant reactive oxygen species that cannot be eliminated by ordinary means. After removing free redicals, hydrogen becomes water and is used by the human body without affecting the normal functions of other benign reactive oxygen species and biological molecules.
| | | | | |
| --- | --- | --- | --- | --- |
| | | | | |
| Hydrogen/oxygen flow(mL/min) | | | | |
| | | | | |
| | | | | |
Model Explanation:

"H" = Hydrogen
"M" = Mixed, contains hydrogen oxygen
How are different models of machines different?


A. By the model number on the nameplate
B. Machine display: OLV-300H and OLV-450M both display H300
Both OLV-600H and OLV-900M display H600
Features
1. The water should be distilled water (TDS = 0)
2.One time add water can use 10 days
3.1 year warranty, shelf life: 7000hours
4.Suggest use time 30mins to 1hour
5.The concentration of hydrogen can reach 1100ppb - 1400ppb within 1 minute when
dissolved in 1 litre of water.
8. Setting time: maximum 10 hours, minimum 30 minutes.
9. In the state of hydrogen production, click the "Sleep" button, the background water tank light will be off, and the brightness of the display will be dim;
Click the "Sleep" button again, the background light of the water tank will be on, and the brightness of the display screen will be normal.
10. Press and hold the "Sleep" button for more than 2 seconds, and then press the "Timer+" or "Timer-" button to adjust the volume.
The volume is adjustable in five levels, the default is the fourth level, and the volume adjustment has a memory function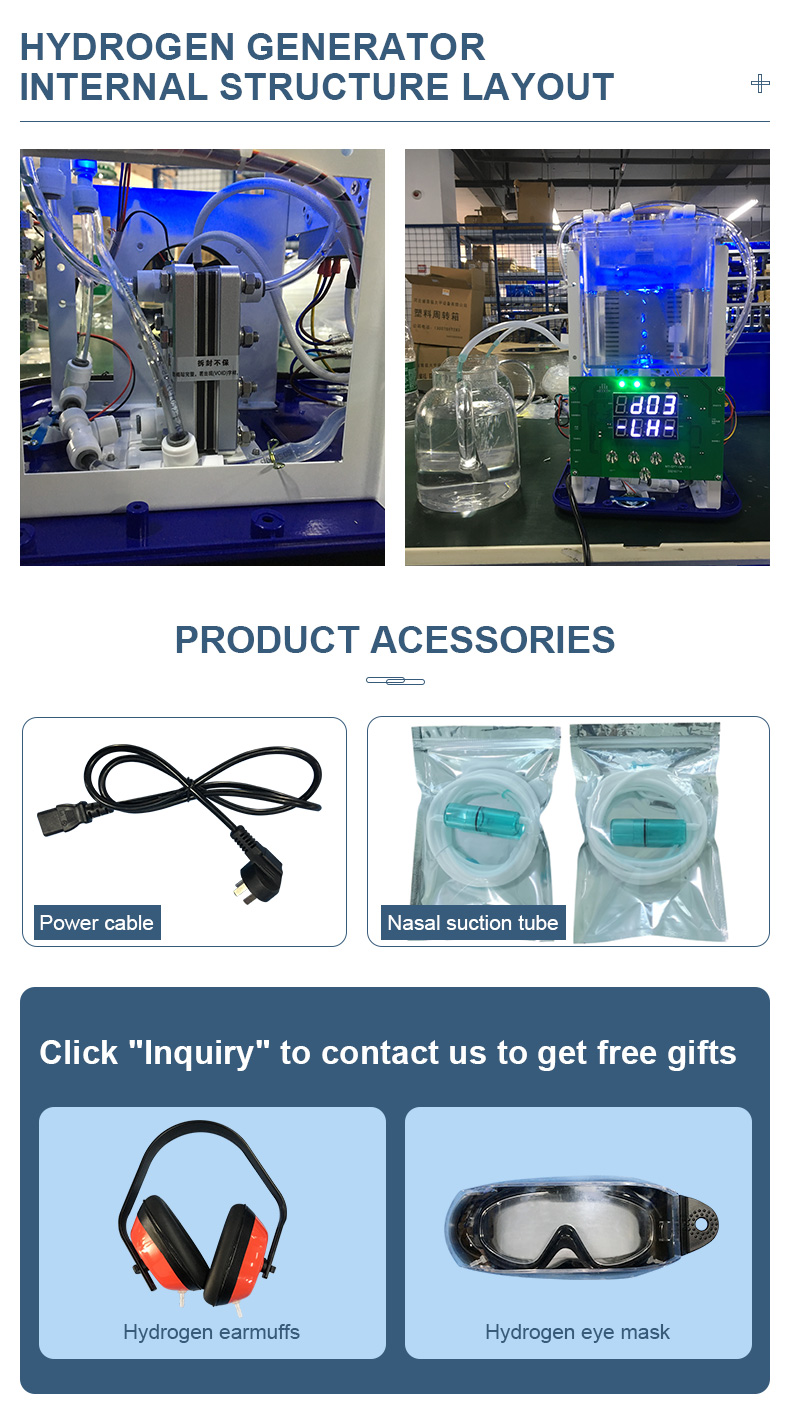 5 packages to meet different needs
✔Basic Package
Hydrogen concentrator *1+Include 2Pcs nasal cannula

Suitable for:Hydrogen inhalation health care, relieve inflammation, sleep aid, improve respiratory distress, improve health
✔Hydrogen concentrator kit1
Hydrogen concentrator*1+ Include 2Pcs nasal cannula+1pc headset with tube
Suitable for: Relieves symptoms such as ear inflammation. Even people over 40, even those who have been tired for years.
✔Hydrogen concentrator kit2
Hydrogen concentrator*1+Include 2Pcs nasal cannula+1pc headset with tube +1pc goggle with tube
Suitable for relieving fatigue, eye fatigue, symptom relief and daily health care
✔Hydrogen concentrator kit3
Hydrogen concentrator*1+Include 2Pcs nasal cannula+1pc headset with tube +1pc goggle with tube +1pc Dissolved hydrogen rods
Suitable for daily hydrogen inhalation health care, oxygen inhalation and drinking hydrogen-oxygen water
✔Hydrogen concentrator kit4
Hydrogen concentrator*1+Include 2Pcs nasal cannula+1pc headset with tube +1pc goggle with tube +1pc Dissolved hydrogen rods+1pc Nasal Cannula .
Suitable for the whole family, daily inhalation of hydrogen and oxygen for healthy drinking
Six Advantages to Create a Comfortable Experience
1.Beautiful Appearance. High-quality shell; touch large display.
2.Small size, easy to carry.
3.Humanized design: Quiet design; Voice broadcast; Can be timed for 10 hours; Intelligent recognition and detection.
4.Original imported: U.S. Dupont N117 Proton Membrane.Core components: electrolyzer composed of imported proton membrane, stainless steel and titanium alloy.
5.Support two modes for hydrogen absorption. hydrogen absorption/hydrogen-oxygen mixed; Double suction/single suction optional.
6.Multipe models are available.flow 300/600 ml/min optional.
Warning Tips
Let's operate together according to the picture below!
Take out the drain connector and connect the drain connector to the drain pipe. When taking it out, try to pull it out by hand.

Before inserting the drain connector into the drain hole, prepare a container for the drained water.

Press down the metal piece and pull out the drain connector. If water leaks out when the drain pipe is separted from the drain connector, wipe it with gauze or towel.

Return the drain connector to its original position.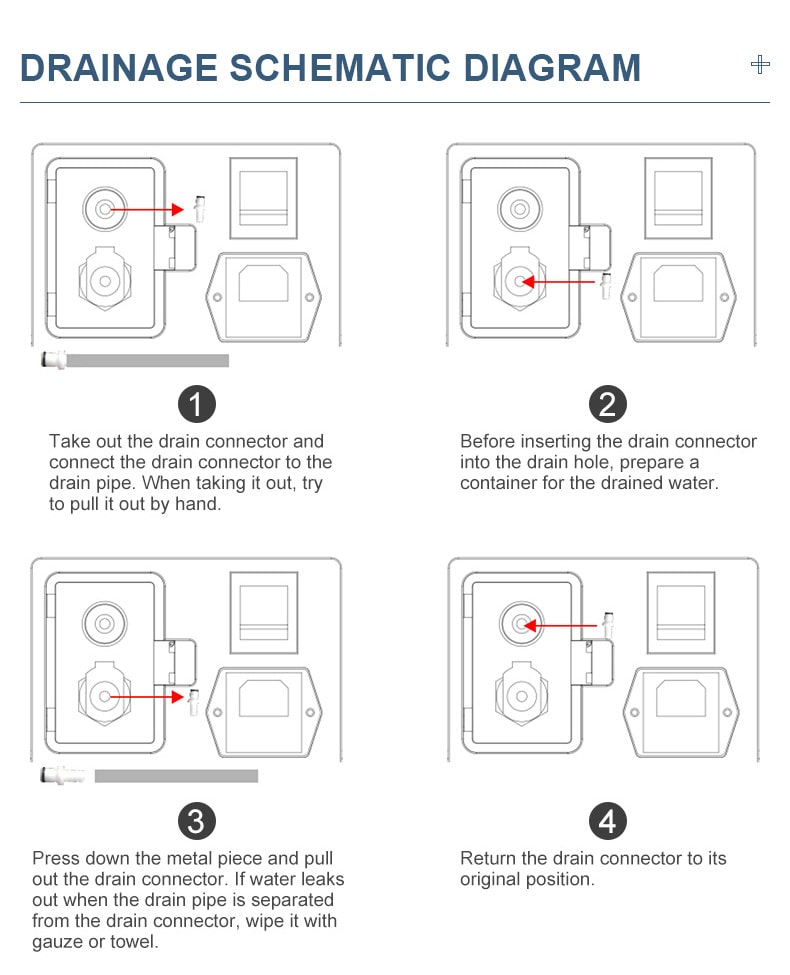 TIPS FOR HYDROGEN ABSORPTION
Don't rush for hydrogen absorption.

It is recommended to do it two hours after the meal, as far as possible to stagger with

the peak period of digestive system activity.
It is not advisable to take too long at the beginning of hydrogen absorption. Itis recommended that within half an hour, and then gradually increase the time.

Young people can increase relatively quickly,and older people try to slow down as much as possible.

After a period of inhalation, stop for a while to prevent hydrogen tolerance.